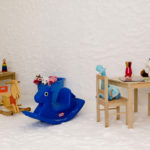 UNIQUE SALT THERAPY ROOM FOR CHILDREN
Salt therapy is an effective treatment for adults and children who suffer from allergies, breathing problems and skin conditions due to its property to detoxify and cleanse the respiratory system.
What is a Salt Therapy?
Salt therapy is a treatment that has been commonly used since the 1700s. During the salt therapy treatment, children respire salty air which deterges the air passages and skin, reducing inflammation and skin irritations. Our unique salt therapy room for kids is safe, beneficial and an effective adjuvant therapy in the traditional treatment of respiratory disorders. Our salt therapy room is specially designed the way for children to get the healing effect and have fun!
The way it works?
Properties of salt therapy:

Antibacterial;

Anti-Inflammatory;

Removes pathogenic substance (airborne farina);

Resolves IgE level (immune system supersensitivity);

Mucolytic effects: loosens excessive mucus and speeds up mucociliary transport.
The salt microparticulates and salt dust percolate the bronchi of the lungs to cleanse the airway passages in the air passage. Playing in a salt room, kids respire the dry air with the high level of salt concentration. The salt releases the wet substance which starts to cleanse immediately, reducing inflammation. After the salt therapy session, your child will be able to breathe easier! Such treatment usually has long-term effect, sometimes it can last up to 12 months!
Benefits of Salt Therapy for children
Unfortunately, children more than adults go through breathing problems because their respiratory apparatus is not fully developed until ten. Children are in higher danger of contracting diseases, so with the periodicity of colds, the additional shielding is more than needed. However, clinical studies had shown that children respond remarkably fast to salt room treatments. In addition, salt therapy has a healing effect on the immune system, it helps to protect your child from future infections and diseases.
The benefits of Salt Therapy for children:
Prevention of seasonal asthma, flu, bronchitis and colds; Healing of skin conditions;

Promotion of better breathing; Improvement of sleep and overall wellness;

Reducing the need for inhalers and antibiotics;

Improvement of lung function;

Prolongs remission times;

Improvement of general health and quality of life.
The most valuable benefit of the salt therapy is that it is drug FREE! It means a happy and healthy life without any medication. And, this option is completely FREE for your children! 30-minute session is enough to ease breathing and initiate healing. Fill out the form below!